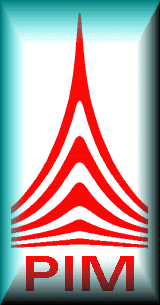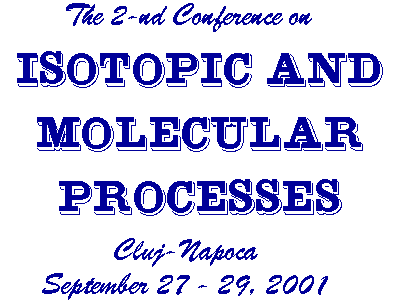 Organized by
The NATIONAL INSTITUTE FOR RESEARCH AND DEVELOPMENT OF ISOTOPIC AND MOLECULAR TECHNOLOGIES
in collaboration with:
The Romanian Academy,
The Romanian Physical Society,
The Babes - Bolyai University of Cluj - Napoca,
The Technical University of Cluj - Napoca and
The "Raluca Ripan" Institute of Chemistry of Cluj-Napoca
under the aegis of
The MINISTRY OF EDUCATION AND RESEARCH.
PIM 1999.

There were two sections: "Isotopic processes" and "Molecular processes".
Each section consisted of oral presentations and poster sessions. Some contributions of general interest were presented as plenary lectures.


---

The organizers are very indebted to
the MINISTRY of EDUCATION and RESEARCH
and to
the PREFECT'S OFFICE of CLUJ DISTRICT
for their substantial support, as well as to the following sponsors:

Banca Comerciala Romana
S.C. "Tehnofrig" S.A.
"Romceh import - export" S.R.L. Focsani
S.C. "Napolact" S.A. Cluj-Napoca
S.C. "Ursus" S.A. Cluj-Napoca
"EDENLAND" S.R.L. Cluj-Napoca
"PEISAGISTICA" S.R.L. Cluj-Napoca
S.C. "Prodvinalco" S.A. Cluj-Napoca
S.C. "Coca-Cola" S.A. Oradea
S.C. "Comcereal" S.A. Cluj-Napoca
Statiunea de Cercetari Pomicole Cluj-Napoca
RATUC Cluj-Napoca
S.C. "Valcele" S.A.
S.C. "Alcom" S.A.

---

Please contact us via E-mail: pim@oc1.itim-cj.ro

---

Instruction for the authors; push here =>

---

After the evaluation of the abstracts by the Scientific Committee, the Conference program was made-up.

---

Download the submited abstracts; push here =>

---

The accepted papers will be published in a special issue of the journal "Studia Universitatis Babes-Bolyai".




Topics:

Isotope separation
Labelled compounds and stable isotopes applications
Advanced molecular systems
Molecular spectroscopy
Mass spectrometry and Chromatography
Molecular biophysics
Acquisition and data processing systems

Organizing committee:

Dr. Mircea Bogdan: president
Dr. Ing. Viorel Cosma: vicepresident
Dr. Cornel Cuna: member
Prof. Dr. Sorin Anghel: member
Dr. Damian Axente: member
Dr. Ioan Bratu: member
Dr. Ioan Turcu: member
Dr. Adrian Pamula: secretary




Scientific committee:

Prof. Dr. Ing. Marius Peculea - Academia Romana
Dr. Teodor Ionescu Bujor - IFA Bucharest
Prof. Dr. Voicu Grecu - Univ. Bucharest
Prof. Dr. Emil Burzo - UBB Cluj Napoca
Prof. Dr. Onuc Cozar - UBB Cluj Napoca
Prof. Dr. Eugen Culea – UT Cluj Napoca
Prof. Dr. Simion Simon – UBB Cluj Napoca
Dr. Ing. Valer Almasan - INCDTIM Cluj Napoca
Dr. Damian Axente - INCDTIM Cluj Napoca
Dr. Ioan Bratu - INCDTIM Cluj Napoca
Dr. Iosif Chereji - INCDTIM Cluj Napoca
Dr. Cornel Cuna - INCDTIM Cluj Napoca
Dr. Stela Cuna - INCDTIM Cluj Napoca
Dr. Victor Feurdean - INCDTIM Cluj Napoca
Dr. Ilie Hodor - INCDTIM Cluj Napoca
Dr. Emil Indrea - INCDTIM Cluj Napoca
Dr. Damaschin Ioanoviciu - INCDTIM Cluj Napoca
Dr. Mihai Jalobeanu - INCDTIM Cluj Napoca
Dr. Ing. Martin Kaucsar - INCDTIM Cluj Napoca
Dr. Vasile Morariu - INCDTIM Cluj Napoca
Dr. Nicolae Palibroda - INCDTIM Cluj Napoca
Ing. Gabriel Popeneciu - INCDTIM Cluj Napoca
Dr. Valer Tosa - INCDTIM Cluj Napoca
Dr. Rodica Turcu - INCDTIM Cluj Napoca
Dr. Gheorghe Vasaru - INCDTIM Cluj